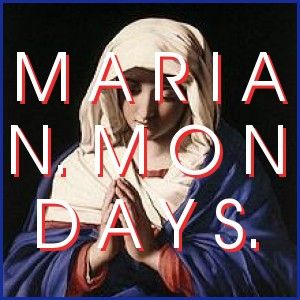 I am beyond excited for the new "Marian Monday" link-up hosted over at Anima Kinsi and so excited to be joining up for the first one. From her blog,
"What is Marian Mondays? It's a weekly opportunity for us to talk about our most Blessed Mother, Mary. Simple enough, right? Simple in concept, but rich in result. We hope that Marian Mondays catechizes you in the genuine and beautiful teachings of the Catholic church, via blogging buddies! Today, we approach the Feast of Mary, Mother of God (Jan 1st! Holy Day of Obligation!). We think that now is as good a time as ever to resolve to learn, to love, and to live in imitation of that holy woman, following Jesus' every step."
For this first link up I am not going to pretend like I can say anything more profound than the saints that have already gone before us.
My household, Regina Angelorum, has a simple and profound quote at the beginning of our covenant and the back of our sweatshirts and t-shirts. (I PROMISE you I will try to soon do a post about households because I know any of you who aren't Franciscan students or grads or scratching their head but understand that they are super hard to explain if you don't live in the culture of them at Franciscan.)
"With your help, as long as there is strength within us, we will fight to the last breath, so help us O Queen, O Lady, O best and dearest Mother." –St. Maximilian Kolbe
Most people only know St. Maximilian as the priest in the Nazi concentration camp who gave up his life so that a man who had children could live but he is a saint that has strongly enriched Marian theology, including his
Preparation for Total Consecration
and forming of the Knights of the Immaculate.
The thing that always strikes me about this quote is the line,
"...as long as there is strength within us, we will fight to the last breath.."
How long do we have strength in us? Until the last breath. As long as we are alive on this earth, through His grace, we will have strength to
fight the good fight of faith
. What a hefty task we have set before us.
Live joy.