I was already planning on doing a 2014 goals update so it was perfect when Jen and Morgan decided to make it a Not Alone Series link-up. A lot of goals have to do with post graduation so are not applicable yet as noted below. I wrote my updates in pink. Pink for hopes of spring. Yesterday was sunny and nearly 70 but today is back to dreary. Spring will come eventually!
1.
Faith
a. The ever present, increase my prayer life. I highly doubt this goal will go away until the day that I die.
Constantly seeking to be in a more intimate relationship with Him.
b. This past year I have gotten better about opening my Bible and diving in. I want that to increase even more this year.
One of my Lenten "add-ins" has been to make sure I am in the Word everyday. I strive to be succesful at it but fail too often.
c. I think this one is the most measurable and important. With my graduating coming in May and the ease of daily Mass at Franciscan coming to an end I want to make sure I don't lose weekday Masses in my life. I know they won't be able to be a daily thing but I do want to make sure I do strive to go to a weekday Mass at minimum one day a week.
Not yet applicable.
2.
Fitness
a. Continue running. Running has been less frequent with the cold snowy weather but I want to make sure it doesn't halt.
I have been working out 1-3 days a week but running not so much. Our new gym was just finished so right now that is a novelty and before that I was doing Insanity. However with the temps continuing to rise and the the snow being less frequent (though it still snowed this weekend!!) I know I will just want to get out there and run.
b. Increase the speed of my running. Since I began, running has just been about being able to run a few miles. Now I want to make those miles faster.
See a.
c. With that I want to train to run 5k races well not just finish them.
See a.
3.
Nutrition
a. With a time without a meal plan looming in my future I want to make sure that when I begin being on my own for good I create good habits.
Not yet applicable.
b. With that lack of meal plan I also want to budget the amount of money I spend on food and be smart about it.
Not yet applicable.
c. This is a constant thing in my life but I am always (sometimes more purposefully than other times) trying to increase the amount of fruits and vegtables I consume.
Trying to work on it!
4.
Friends and Family
a. Love my family and friends selfishly. Easy to say, hard to do.
Constant striving.
b. As I graduate and leave the consistent social life I have had for the past 5 years I want to start off my life as a college graduate making new friends.
Not yet applicable.
c. Pray for my family
constantly.
Everyday.
5.
Financial
a. Again with this graduation thing, I want to start managing my own real money starting with good habits that include saving and spending wisely
Not yet applicable.
b. I do not want to have any credit card debt. Student loans I will have and I think I am ok with car loans but credit card debt will not be acceptable.
Not yet applicable.
c. I want to pay above minimum payment on my loans. I know this may not be feasible right away but I want to start working towards that.
Not yet applicable.
6.
Home
a. As I create a home for myself post graduation, I want less clutter.
Not yet applicable.
b. With that new place I want to make sure I create a purpseful sacred space which will help with number one point a.
Not yet applicable.
7.
Fun
a. Enjoy the last semester of college, I don't think this will be hard.
An
abundance
of fun all the time.
b. Travel. If there is a wedding I wan to be there. I haven't seen a friend for a while, lets road trip.
I went down to Florida for Spring Break which was absolutely perfect but besides that no plans.
8.
Blog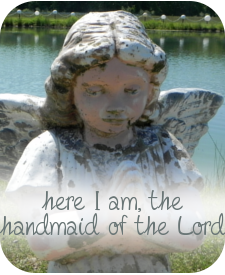 a. This isn't something that can be forced but I want more good friendships through this blog world. I have already been blessed with the beginning of so many and I want to cultivate those and accept any others I am blessed with.
I met Jen over Spring Break--way more awesome than I had planned when I wrote my goals back in January!!
b. I want to have more purposeful blogging. What would I want to read, let me create that here. I want to make sure what I post here on this bloggity is really reflecting the image that I am and want to be.
I wrote this post here and I have been working on it.
My word for 2014 was empty. Oh man, the Lord has given me so many
opportunities
to become empty of myself and full of Him and full of service to others. He has emptied me over and over again. I pray that each day I am filled more and more with virtue and grace.