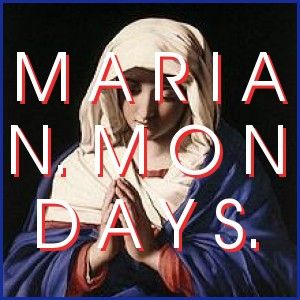 I
promised
a post about scapulars and I want to deliver.
I was possibly going to write all about the scapular, it's promise, history, etc. but then I came across
this post
and realized I couldn't write it any better.
A few things I want to add.
I started wearing a scapular off and on in high school and in college began to wear it regularly. I sometimes tuck it into my unmentionable when it is getting tangled up in my miraculous medal chain. I wear it into the shower and sleep with it on. Very rarely do I take it off.
So you want to see my scapular?
I am reluctant to let go of this particular scapular even though though it has seen better days. This was the scapular I wore all throughout my semester in Austria including a pilgrimage to Rome, Assisi, and Medjugorie. It has touched the waters of Lourdes at Lourdes. You just can't beat that. The wood cross is from Assisi and is given to all the students from the Friars. I know getting a new one will eventually be inevitable so I have started looking at homemade-ish ones like
this
or
this
. If you have any scapular suggestions please let me know!!
Lastly, I want to say if you have never learned about scapular miracles you are missing out. There are so many stories about the power of the scapular. Ones about people trying to trick the power of the scapular, priest saying Mass, and soldiers at war.
Live joy.